Garage Door Installation DIY
Is Garage Door Installation DIY A Good Idea?
Installing a garage door yourself will help you save money since hiring a professional can be expensive. However, garage door installation DIY includes some risks you need to be aware of.
Garage doors are dangerous because their opening mechanism relies on strong coils. Installing a new door means you will have to install these springs and get them tight enough for the door to properly open.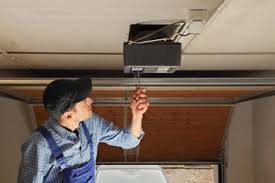 If you lack experience, you might accidental break one of these coils or wind it up too tightly. This could be very dangerous since garage door springs can cause some serious injuries.
You will also have to remove the opening mechanism from the old garage door. Removing the old springs is also dangerous since they might uncoil at a high speed and hurt you or cause some damage to your garage.
It is possible to safely remove an old door and install a new one. You should take the time to watch some step by step tutorials that show the specific model of garage door you have to learn about issues you might encounter during the garage door installation DIY process.
Make sure you have all the right tools you need before you get started. You should also make sure the new door will fit in the rails of the old one. It is possible to install a new door in less than two hours but it might take you longer if you lack experience.
Hiring a professional to install your new garage door is your best option if you do not have the right tools, lack time and are not sure how to prevent injuries when removing the springs from the old door. A DIY installation is a good option if you know what you are doing and take the time to watch or read tutorials before you get started.